MicroScribe Solutions™

The real power of the MicroScribe begins when integrated with GHOST 3D's advanced 3D digitizing, editing, and manipulation software such as: Scribe-iT CAD, Scribe-iT DCC, Power Digitizer Pack, and the original MicroScribe-MAX and utilities (developed by GHOST 3D for Immersion). These applications (or a custom software solution from GHOST 3D) transform 3D CMMs like MicroScribe into a powerful digital content creation, design, interactive manipulation, animation, visualization, navigation, measurement and reporting tool, within top quality popular 3D modeling applications. You can find out more about some of our commercial integration software by checking out the Scribe-iT software solutions page.

With MicroScribe Solutions™ from GHOST 3D you can trace over the contours of physical objects and build complex 3D models in minutes. You also have the control of creating the objects and the data in a layout that is optimized for your special purposes. There are so many uses for MicroScribe, you name it, GHOST 3D made it happen. Or, if you have a demand we haven't yet addressed, we'll add it to the next release! That's how avid we are about MicroScribe CMM Systems and our integrated solutions.

GHOST 3D, LLC is OEM Systems integrator, software developer and a top-level direct outlet for these state- of- the- art CMM Systems below. We make the MicroScribe work with various applications, and we can also supply methods, techniques, and support for custom or alternative applications. Ask us anything about MicroScribe, and then request a quote - not only will you love our solutions, but you'll also enjoy our prices and expertise - we're second to none, and staffed with technical experts that have, well, to be honest, more experience supporting and developing for MicroScribe than any other company.



MicroScribe Service

• GHOST 3D Systems is the leader in MicroScribe Service & Support
Only GHOST 3D, LLC provides you with MicroScribe support experts with over 14 years experience in MicroScribe technical support and service.
• We're the longest running most experienced provider of MicroScribe Solutions in existence! We don't simply sell parts - we help our customers achieve success!
• Ask MicroScribe questions or get MicroScribe Support any time.
You have MicroScribe questions or performance needs? ...
... We have the answers & solutions you need! ...
... not just for MicroScribe, but for integrated software solutions too!
• We also offer best pricing and value on MicroScribe Solutions, submit your budget or quote requirement, and we'll meet it or beat it!
• Also check here for MicroScribe promotional events!




---


MicroScribe® 3D Digitizer (CMM) Product Details

MicroScribe® 3D digitizers come in several models and configurations to meet cost, size, and accuracy requirements of your projects. The MicroScribe Product Selection table below shows the various MicroScribe models and specifications.

MicroScribe models are split into two distinct series: MicroScribe G2X series (accurate for desktop 3D digitizing, design, graphics, CAD, DCC, etc.) and MicroScribe MX series (higher-accuracy and more durable construction for industrial applications, manufacturing). There are two sizes of digitizer in each of these series: a 25" length arm - yielding a 50" maximum spherical volume reach, and a 33" length arm - yielding a 66" spherical volume reach. The models with an "L" in the designation have the larger active volume (66" in., 1675mm) and are only slightly less accurate than the corresponding standard volume model. MicroScribe models with the "6" designation have a "Spinning Stylus" mount providing six Degrees of Freedom (6-DOF) as opposed to the standard models which do not have a Spinning Stylus (5 Degrees of Freedom only). The Spinning Stylus provides much easier manipulation of the stylus or probe tip and is also required for a 3D Laser add-on probe. Using MicroScribe with Scribe-iT software applications provides one of the most precise, and controllable ways to quickly create and maninpulate efficiently designed accurate 3D models, measurements and date for design, machining, engineering, multimedia, animiation, research, simulation, or virtual reality.

Below you'll find a table with all the available MicroScribe models and specifications. You'll also find additional information on optional MicroScribe acccessories, MicroScribe software, MX details, and 3D Laser probe...


MicroScribe Product Selection Model-Matrix Table
MicroScribe Model / Designation
Maximum Volume
Accuracy*
Standard Accuracy (DCC, Design, CAD, Rev. Eng.)
MicroScribe-G2X
50" in. (1270mm) Sphere
±0.009" in. (±0.23mm)
MicroScribe-G2LX
66" in. (1675mm) Sphere
±0.012" in. (±0.30mm)
Note: MicroScribe G2 and G2L models are discontinued permanently.
Industrial Accuracy (Mfg., Engineering, Science, Medical)
MicroScribe-MX
50" in. (1270mm) Sphere
<0.002" in. (0.0508mm)**
MicroScribe-MLX
66" in. (1675mm) Sphere
<0.003" in. (0.0762mm)**
MicroScribe can also be ordered with a spinning stylus axis (6- axes total)
MicroScribe-6G2X (6-axis, Spinning Stylus)
50" in. (1270mm) Sphere
±0.009" in. (±0.23mm)
MicroScribe-6G2LX (6-axis, Spinning Stylus)
66" in. (1675mm) Sphere
±0.012" in. (±0.30mm)
MicroScribe-6MX (6-axis, Spinning Stylus)
50" in. (1270mm) Sphere
<0.002" in. (0.0508 mm)**
MicroScribe-6MLX (6-axis, Spinning Stylus)
66" in. (1675mm) Sphere
<0.003" in. (0.0762 mm)**

MicroScribe-Laser Systems: Any MicroScribe 6-DOF Spinning Stylus model above can be ordered as part of a MicroScribe-Laser System with integrated Software.
* - Accuracy specification based on ASME B89 100 point ANSI sphere test unless otherwise marked and noted.
** - Accuracy specification based on ASME B89.4.22 Draft Specifications.
$ Contact us for MicroScribe Prices and MicroScribe Solution packages...


MicroScribe System Components:
All of GHOST 3D's MicroScribe Systems come complete with the following:
• Free MicroScribe Utilities and Diagnostics Software,
• Dual Hand Switch (Twin Foot Pedal optional),
• Power Supply (specify plug/cord for U.S.A., Europe, Asia),
• USB and Serial Cables,
• CD with Utilities and Manual,
• Standard Cert. of Compliance,
• Warranty
- USA: 1 Year Mfr. Warranty
- Europe & International: 2 Year Mfr. Warranty
• MX Models also include 2 Tips and one TIP Calibration Fixture.



MicroScribe Accessories and Parts:






Support Tripod Travel Case Fixture Plate Platform & Putty Hand Switch







Standard Tip Ball Tip Fine Tip Twin Foot pedal Power Supply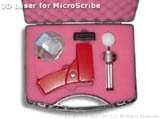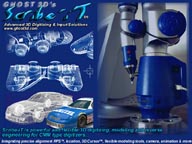 MicroScribe 3D Laser Sys.
MicroScribe Software Solutions
---


MicroScribe MX - High Accuracy, Shop-Durable

MicroScribe MX models offer industrial use + metrology level accuracy:
Up to 0.002" (0.0508mm) accurate the MX series provides sturdy, shop-durable, state-of-the-art components in an easy-to-use articulated arm design. MicroScribe MX is ideal for more heavy use (such as shops, labs, schools, and frequent travel). An optional heavy duty mounting plate, provides the platform for a variety bolt-on end-user mounting needs. Plus, G3D Systems can configure the MX for seamless integration with the most popular reverse engineering and metrology software packages. MX models are calibrated and testing using ASME B89.4.22 Draft Specifications - an industry standard used for testing accuracy and repeatability performance of Articulated Arm Coordinate Measurement Machines.

Accuracy Specifications: The more commonly recognized method for determining articulating measurement machine repeatibility is the SPAT (Single Point Articulation performance Test). In this test the probe of the CMM device is placed within a conical socket, and individual points are measured from multiple approach directions. Each individual point measurement is analyzed as a range of deviations about the average value for point location. The resulting report includes the commonly used maximum deviation distance and 2 times SPAT at that location.

Cost Effective G3D CMM Systems for Demanding Applications: The MicroScribe MX system is one of several G3D Systems that offer a new, highly accurate, shop-durable, and most cost-effective alternative for Manufacturing, Quality Control (QC), Manufactured parts Inspection, Reverse Engineering, capturing for Rapid Prototyping (RP), and high-accuracy 3D digitizing.

> MicroScribe MX Product Data Sheet (PDF)

Ready to Order? Contact a G3D Systems MicroScribe Expert today!


(please complete the request form here...)







---


MicroScribe X [ DISCONTINUED ] Contact G3D Systems for alternatives

State-of-the-art accuracy of 0.00047" (0.012mm Eff. Diam. Sphere) in an 8 ft. arm. Ask G3D Systems about MicroScribe X or FaroARM - industry's highest accuracy portable CMMs.


---


MicroScribe Software Support

GHOST 3D's G3D Systems group offers MicroScribe support for 3ds max, AutoCAD, Autodesk VIZ, CADKey, Maya, Rhino 3D, SoftImage, Solidworks, Studio Tools, Verisurf, Autodesk Inventor, and more!

For more information on integrated MicroScribe Software solutions please visit the Scribe-iT® software site for MicroScribe applications...







---


MicroScribe 3D Laser Systems

GHOST 3D offers new advanced MicroScribe 3D Laser Systems™ and MicroScan Tools™ software as rapid, accurate and simple-to-use solutions for 3D digitizing and Reverse Engineering complex 3D surfaces from physical objects. The MicroScribe Lasers are powerful and flexible for acquiring 3D surface data - you can use the laser for accurate & dense (high point-count) point clouds, or you can use the MicroScribe probe manually. The laser can rapidly capture up to 28,000 points per second at 0.1mm density, and the data is aligned in real-time as you capture. Ask a G3D Specialist for detailed information, and you'll quickly learn the power and value* of the MicroScribe 3D laser systems.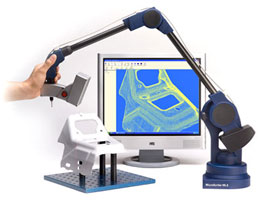 MicroScribe 3D Laser System Highlights:
• Flexible multi-functional solution providing use of precision point- to- point CMM measurement/data manipulation device, and 3D laser range scanning for complex surface data acquisition.
• Costs far less than most comparable 3D laser systems
• Quickly capture high detail with dense point cloud data-sets
• Can be purchased as a complete system or as an upgrade to 6-DOF MicroScribe systems
• Integrated software can transform and output surface data
• Offers compact lightweight portability and easy setup and use (laser sensor device adds only 1.6 lbs. to system).


> MicroScribe 3D Laser Scanner PDF document

> FAQs, Technical Information for Microscribe 3D Laser & MicroScan 3D

> Exclusive GHOST 3D Systems Offers on MicroScan 3D and complete MicroScribe 3D Laser Systems

> MicroScan & MicroScribe 3D Laser Technical Support from G3D Systems.

Learn more...



> System designations and Additional Laser Solutions



*G3D Systems offers lowest everyday pricing on MicroScribe laser systems packages. Bonus! We also offer a variety of money saving Software incentives on MicroScribe or MicroScribe laser system packages.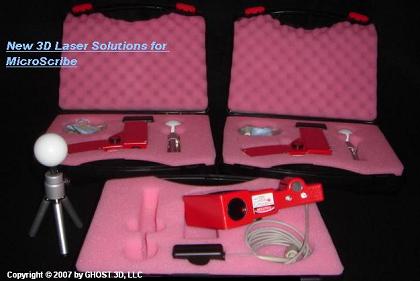 3D Laser Solutions and Expertise (G3D Systems): GHOST 3D has many years of experience and expertise developing, improving and distributing 3D Laser scanning solutions and products. Our G3D Systems group is a top supplier for many brands. We have a long term OEM relationship with our suppliers for MicroScribe 3D Laser parts and we supply MicroScribe Laser and MicroScan Tools products and support direct to customers and end users globally at a substantial savings over competitive solutions, a cost that is 3 to 5 times less than comparable products. Contact us for more information about MicroScribe / MicroScan 3D Laser solutions from GHOST 3D, or check our detailed MicroScribe 3D Laser FAQs...


If you have any other questions about MicroScribe, MicroScribe Lasers, MicroScan Tools, etc, please submit a request form here...
We're here to help you harness the power of G3D Systems and jump forward into a truly advanced 3D experience!









---


About GHOST 3D's exclusive involvement with MicroScribe:

GHOST 3D and our G3D Systems group have a long successful history and partnership with Immersion (MicroScribe hardware designer). This alliance enables us to provide first class MicroScribe service, solutions and the very best in informative support and instructional techniques.

GHOST 3D's Systems group actively offers and supports MicroScribe and MicroScribe Solutions to and for use by product designers, industrial designers, engineers (biological to mechanical), game and entertainment developers, forensic scientists and researchers, entertainment and film artists, and DCC/CAD/CAM and visualization professionals; Our commercial and custom MicroScribe Solutions include applications for reverse engineering (RE), 3D Digitizing and Modeling, Quality Control (QC), Inspection, Metrology, Industrial Design and Manufacturing, as well as several other custom applications such as point cloud surfacing, scan processing, data analysis, filtering, and more.

GHOST 3D is a 3D CMM and 3D Input Solution pioneer, and a top provider of advanced 3D Data Capture, Digitizing, Modeling, and Measurement Systems. GHOST 3D's software engineers also created the very first animation system coded for the MicroScribe and other CMMs. The interactive 3D input animation software has been written from the ground up to provide its own unique keying and capturing systems that enable animation of 3D objects using a CMM in real time. It is the first and perhaps only commercial solution ever to provide dedicated animation tools to be used in conjunction with a 3D CMM device like the MicroScribe, and FaroArm devices. We continue to break new ground with digitizing devices and software technology that can speed the process and flexibility in which 3D professionals create and manipulate 3D content. We also continue to develop Reverse Engineering and metrology solutions that are uniquely suited to optimize production.

Through an exclusive development/marketing/distribution agreement with partner Immersion Corp., GHOST 3D pioneered the first MicroScribe products as a 3D digitizing solution, developed unique software applications and techniques, and also provided premier commercial distribution and marketing campaigns that evangelized the MicroScribe "3D Digitizer" as we know it today. GHOST 3D also partners with and improves a variety of third party 3D capture products to offer an expanding portfolio of products for 3D Digititizing and Reverse Engineering. We are committed to serving a wide variety of industry professionals with complete solutions for 3D modeling, digitizing, reverse modleing, surface reconstruction, 3D manipulation, visualization, metrology, and design applications. Since the launch of MicroScribe our staff has been dedicated to providing unmatched service, extending new product developments and offering continued support of the MicroScribe solutions.

As a forerunner in 3D Digitizing, Modeling, and Reverse Engineering,
GHOST 3D has the knowledge and experience to provide you with the right "state-of-the-art" solution for the job.



Contact GHOST 3D, LLC for lowest direct-pricing on CMM Systems!
Please submit all MicroScribe questions & quote requests using the form here
(click here)